"Every minute my children remind me of my Meruzh and our happy past. Only for them I live"
Meruzh Miroshnychenko was one of the first Ukrainian volunteers who were killed in the East, in the crucible of war. The man changed his name in honour of Prince Meruzh who died in battle and saved the army, as if feeling his vision in life. "Meruzh always said that he did not want war to come to the streets Zaporizhzhia, so he volunteered to the East. Thanks to him and thousands of others like him, we can live a common life, but unfortunately, no hugs and support from beloved father", said Taisiya ​​Parshenko, wife of a DUK soldier (Ukrainian Volunteer Corps) killed by Russia-supportd separatists, Meruzh Miroshnychenko.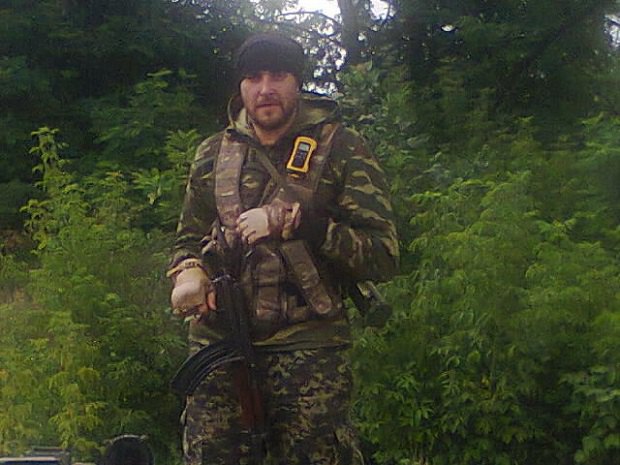 "Always friendly, cheerful, caring and gentle", the first thing Taisiya said about her husband.
After the birth of Meruzh, jr. (so Meruzh Miroshnychenko called his son) the responsibility to ensure the family fell on the husband, he worked hard, but always hurried home because he knew the family were waiting for him, his dearest ones in warmth and comfort. "We always planned our life. Meruzh was a purposeful man. When he had spare time, we tried to relax together, we went to the park, to the cinema, went to the sea, went riding on a sled, played at home board games (chess, dominoes, Monopoly) or collected together children's kit. Our son grew up in a family where love and harmony prevailed. When Meruzh jr. (son) studied in the 3rd class, the teacher asked the children: how do you begin your day? – Some said with the clock, some with coffee and so on. And ours answered – with kisses, and that surprised the teacher", says the wife of the deceased Ukrainian Army soldier.
When the war began, Meruzh Miroshnychenko, decided to volunteer to the East. "None of the family did know, I was in the last months of pregnancy and he suggested me to go visit my mother, I agreed. The son was sent to a sports camp, and Meruzh went to the Donbas", recalls Taisiya.
Since then, in the summer of 2014, there was not any legislative framework for the volunteers in our state, so now Taisiya and two children of the deceased volunteer for the war Meruzha Miroshnychenko - 12-year-old Meruzh and 2-year-old Spartak, who was born after his father's death have to defend their right to decent social protection in the court. Now they are receiving social assistance for survivors, but its size is insufficient. The children often talk about their father, weep and mourn for him. They need to repair their home, a washing machine, a new gas stove, beds and clothes. Do not leave the family of the deceased volunteer Meruzh Miroshnychenko: wife Taisiya and two wonderful sons Meruzh and Spartak alone with their grief.
To help the family of the fallen Ukraine soldier follow the link https://lpl.com.ua/en/needersato/profile/371 or use the bank requisites below:
PARSHENKO Taisiya Leontievna TAISIIA PARSHENKO 4188370027449068 (Raiffeisen Bank Aval)